New Head of Accounts
We are very pleased to announce Rachel Robinson MAAT as our new accountancy manager, who joins us from one of the country's largest block management firms to head up our accounts department, and join the amazing Evolve journey & family, Rachel joins us at a crucial time in our journey and will help us not only better manage our existing client portfolio but allow us expand with robust financial processes and procedures in place.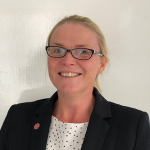 Rachel has considerable experience in service charge accounting and book keeping having worked with one of the country's largest block management firms. Rachel looks after our accounts department and is responsible for overseeing supplier payments, year-end accounts preparation and managing our credit control processes. She is very happy to pick up the phone and discuss any concerns or questions about budgets, balances, debts or other service charge finance matters. Service charge accounting can be complex to understand but Rachel is more than happy to help!
To find out more about Evolve and what we can do for you, Click Here!
Rachel's Contact Details:
Email: Click Here!
Tel: 01425 206 595